Application in the ball grinding mill of building materials
Summary
A Luzhou coal and mine Co., Ltd adopt ball grinding mill to recycle the cinder. It not only can create new value, but reduce the pollution of the environment. The ball grinding mill was drived by a motor of 3000kW,10kV, and start by a water resistance cabinet. Due to the 6km long distance from factory to power station, when the feeding over than 50%, the MV switch often was broken because of the high input current. It caused the ball grinding mill can't operate at full capacity.
Application
Pls find the main circuit after using a 3000kW VFD with a manual bypass cabinet.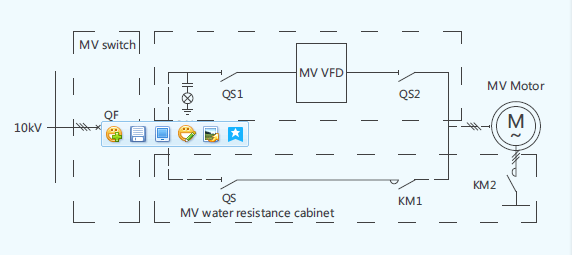 1. Normally, the motor was started by VFD, the water resistance cabinet standby.
2. Electric interlocking between VFD and water resistance cabinet, when VFD was failed, user change VFD to bypass cabinet. The motor was started by water resistance cabinet
3. Interlocking between VFD and oil pump, the VFD must be started after oil pump working.
4. VFD equipped with pre-charge device, avoid high input current caused by charging of internal capacitor of power unit.
Benefit analysis
1.The Max current can be limited by IDrive2000 MV VFD to avoid high input current to cause the failure work of switch.
2 Improve technological parameters, Increase the availability of the Ball grinding mill from 50% to 95% at least.
3 Increase the Max motor power factor from 0.86 to 0.96
4.Reduce start impact to motor, extend the motor's service life